Vivid Air™ 
Vivid Air™: The first in AI sorting extraction methods. We have looked beyond the mechanical arm for higher sorting efficiencies and utilized what we are experts in: air sorting.  With over four decades of positive pressure air ejection experience, we firmly believe it provides more benefits than a vacuum-based robotic arm.
Vivid Air™ Combines the powerful Recycleye AI sensor with the field-proven MSS air ejection system to sort material at the highest volumes without restrictions on picks/minute and limitations of robotic arms. Using established positive pressure air valves allows us to use wider belts where necessary, without the need for multiple parallel robotic arms. Belt speeds can be increased and pick rates boosted 10-fold over the same conveyor width to maximize throughput and sorting efficiency.
Benefits:
High volume compared to robotic solutions
10 times higher picks per minute than any mechanical arm or human sorter
Multiple objects can be extracted side by side at the same time, like conventional optical sorters
Very low maintenance, no daily suction cup replacements
Lower compressed air usage
Single-eject or dual-eject options available
Technical Articles
Article: MRF QC Automation Solution with AI Air Jets
Webinar: Robots, Optics, Air Jets, AI…oh my!
Call or email us for more information: 615-781-2669 or info@mssoptical.com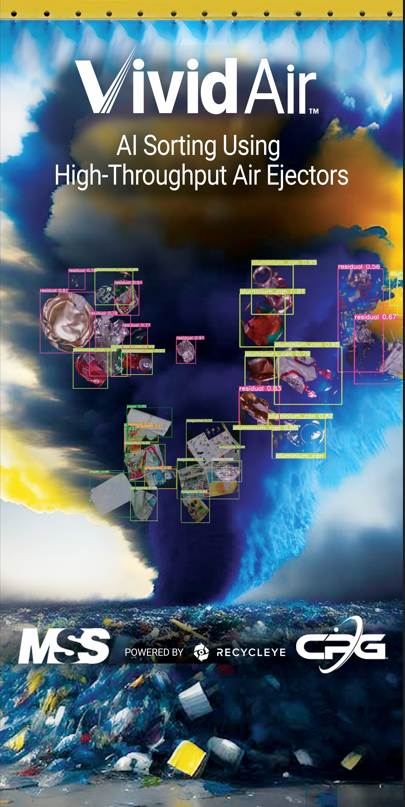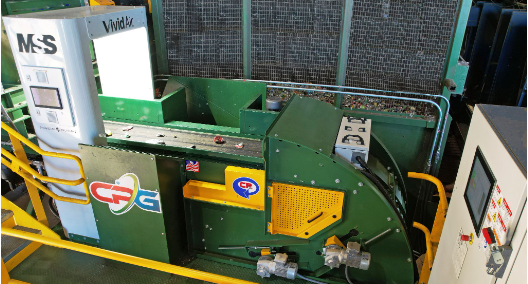 Applications
Aluminum QC: UBCs from Non-UBC aluminum and non-metals
PET QC: Bottles from thermo-forms and non-PET
HDPE QC: Natural from Color PE and non-PE
Last Chance: Recyclables from residue
Black Plastics from mixed recyclables
Food-grade from non-food-grade polymers
E-Scrap: Circuit boards, copper, CPUs, etc.
Automotive Scrap: air bags, meatballs, tires, etc.
Specifications and Features
 • Machine width: 24" – 96" in 8" increments
• Electricity: 5-10HP
• Compressed Air: Depending on application
• Single-eject and dual-eject configurations
• Metal detector upgrade available
• New complete installations or retrofits