Improve Fiber Quality, Reduce Headcount
FiberMax™ optical sorter maximizes fiber quality for best marketability while reducing manual sorter headcount.
Faster
Belt speeds up to 1,000 feet/minute sort paper 40x faster than manual QC.
Smarter
Intuitive learning software adapts to changes in the material stream.
Better
Higher purity of newspaper and mixed paper for better marketability.
Performance You Can Count On
Fastest belt speeds in the industry: 1000 feet/minute
Watch CIRRUS
®

FiberMax

TM

 in Action

Based on the popular CIRRUS® sensor platform, the FiberMax™ provides increased sorting speeds, sensing capability and operating flexibility. Put simply, the CIRRUS® FiberMax™ is faster, smarter and better.

The CIRRUS® FiberMax™ is currently running in both commercial paper recycling operations (recovering mixed paper and sorted office paper), and residential fiber operations (removing prohibitives and outthrows from newspaper and mixed paper). In both applications it is exceeding expectations.
Featured in Recycling Today

"Eight manual sorters on a line can make about 400 picks per minute, but MSS optical sorters can make about 2,000 picks in that same time."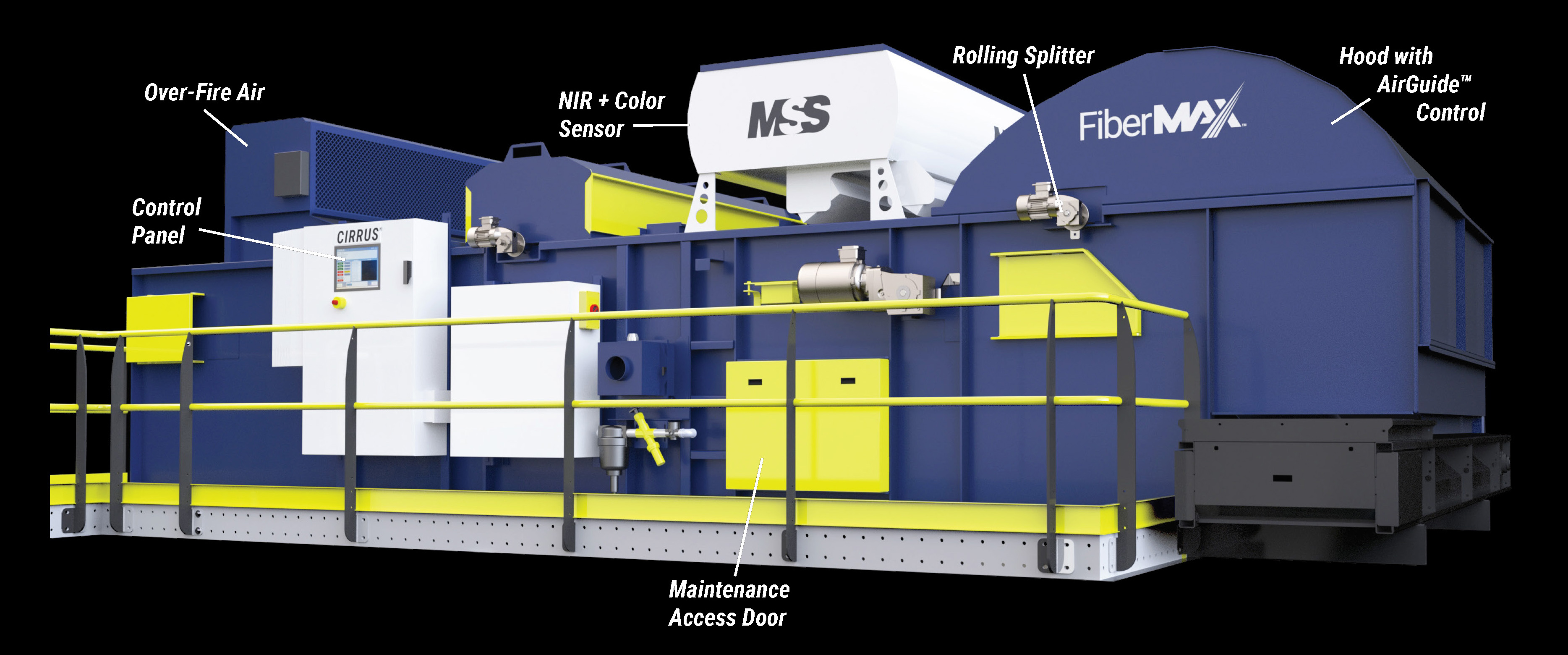 Integrate a FiberMax
TM

into your solution and get results.
Headcount reduction on fiber QC
Reduce exposure to potential market risks such as "Green Fence" or "National Sword"
Improved fiber marketability
40 times faster than manual fiber sorting
FiberMax™ Features
MaxSelect™ Capability utilizes patented sequential scanning for the highest-definition scan possible.
ClearLight™ technology provides the strongest signal-to-noise ratio of any optical sorter in the recycling industry.
Custom widths available (up to 112″)
High-velocity belt speeds of 1000 feet per minute
Take control of your operating costs and product marketability with FiberMax

TM
As wages continue to rise and exporting commodities becomes more difficult, it is more important than ever before to run a lean operation. FiberMax™ eliminates manual sorters on your fiber QC line by achieving faster sorting speeds, smarter recognition capabilities, and higher purity of fiber for better marketability.
Contact us to:
Integrate FiberMax into your existing or new system
Justify the return on investment
See a live demonstration at our facility with your unique material mix
Visit a FiberMax™ installation in the field