Next-Generation Optical Plastic Sorting
The CIRRUS® PlasticMax™ is the industry's most efficient optical sorter for containers and plastic recovery. PlasticMax™ accurately identifies and recovers the most challenging material, such as short fills, labels, and PET-G.
Best Signal-to-Noise Ratio
MSS doesn't use gratings or beam/light splitters, so our detectors receive the maximum amount of reflected light possible.
Easy Sort Setup
High number of NIR and Color wavelengths make it possible to change sort setups with programming software, no hardware changes required.
Best Ejection Accuracy
Mechanical features virtually eliminate tumbling and rolling of small single-serve PET bottles and yogurt cups.
Low Maintenance
Continuous Automated Internal Calibration virtually eliminates the need for manual re-calibration on a regular basis.
The NIR sensor housing is under positive pressure which eliminates dust accumulation on the inside.
Increased Recovery Rates
Distance between detection and ejection allows for full image analysis, increasing recovery rates and reducing cross-contamination.

Up to 36x higher pixel resolution for better accuracy for crushed items and objects with labels.
Maximum Results with CIRRUS
®
In Flight Detection with Illuminated Reference

Over-the-belt Detection with Reflective Reference

Advanced Learning Software and Identification Algorigthms

Precise Air Jets

Integration into Existing Processing Systems

Each Unit Tailored to Your Specific Needs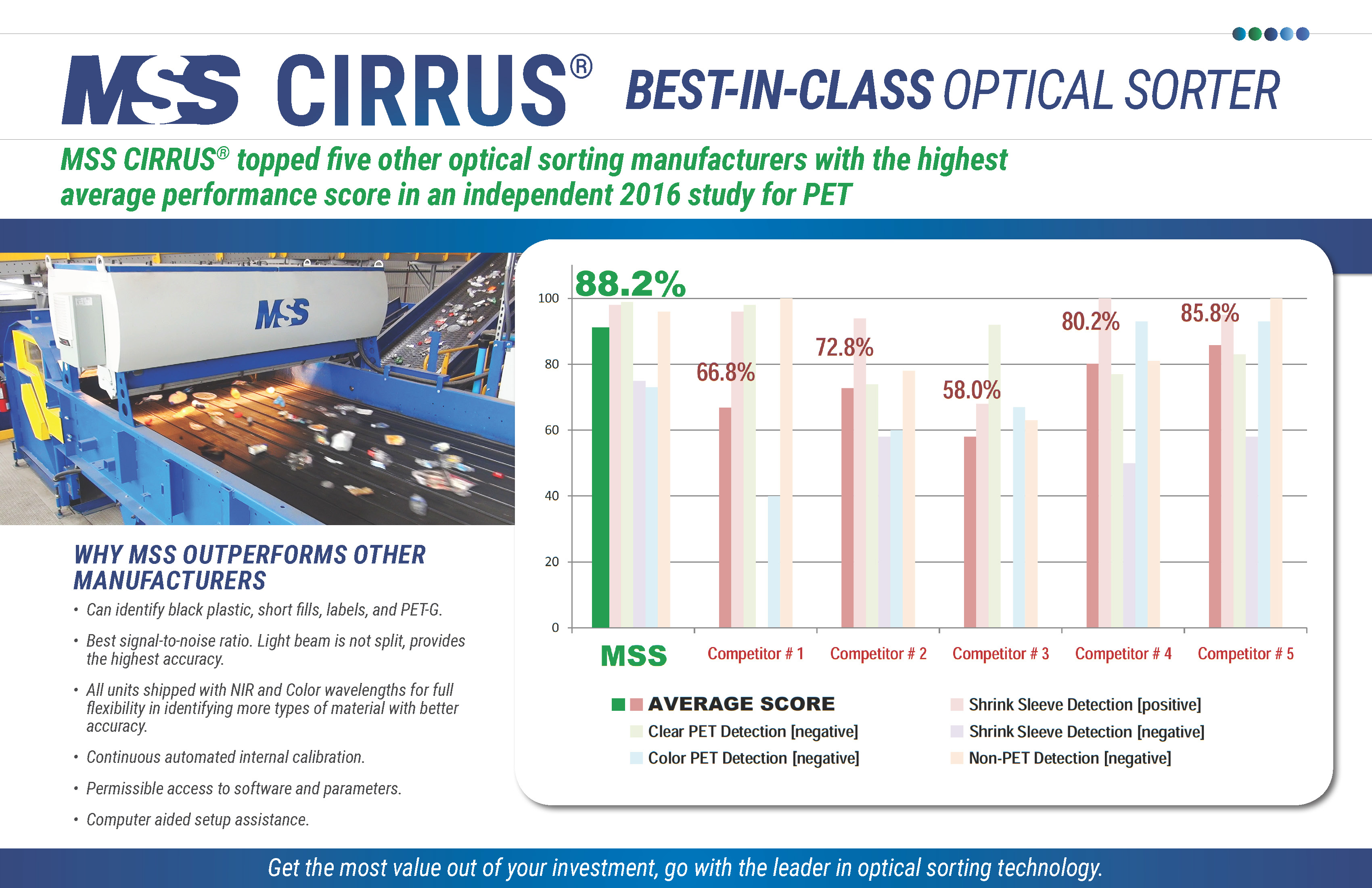 The MSS CIRRUS® recently achieved the highest average sorting performance against five competitors in an independent study of shrink-sleeved PET bottles.