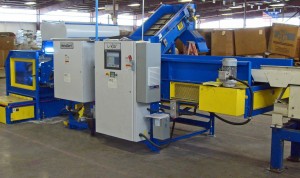 NASHVILLE, Tennessee – MSS Inc., a world leading manufacturer of optical sorting equipment, recently introduced a new high-resolution color camera sorting system for small particle applications, such as shredded and granulated materials – the L-VIS™.
The L-VIS™ is designed for color-sorting applications such as shredded electronic scrap to extract high-value commodities (printed circuit boards, copper, etc). It provides excellent separation accuracy (up to 98%) and is available with a proprietary shape identification software algorithm specifically designed for sorting wires. The L-VIS™ can also automatically sort plastic granulates, pellets and flakes by color.
"We developed the L-VIS™ from the ground up", says Greg Thibado, MSS General Manager, "and we are very excited to demonstrating its capabilities to our customers."
Even the smallest particles can be accurately identified and sorted. A corresponding high-resolution air jet array provides the fastest, most accurate ejection possible
An all-metal detector for ferrous, non-ferrous and stainless steel can be added for further sorting applications. The L-VIS™ can be easily configured by the operator via a touchscreen interface and is offered in three sizes: 800mm (32"), 1200mm (48") and 1600mm (64").
"The L-VIS™ allows us to sort smaller and smaller particles", says Felix Hottenstein, MSS Sales Director, "and we are just starting to scratch the surface in regard to all the different applications we believe the L-VIS™ will provide a superb performance."
MSS is a division of the CP Group. The CP Group designs and manufactures material recovery facilities and recycling equipment for Single Stream Recycling, Construction and Demolition Waste, Commercial and Industrial Waste, Waste to Energy, Municipal Solid Waste, eWaste and more.
For further information, please visit www.mssoptical.com, email info@magsep.com, or call 615-781-2669.